Investigative Journalism to Combat Corruption and Demand Accountability in Malaysia and Australia
Seminar/Forum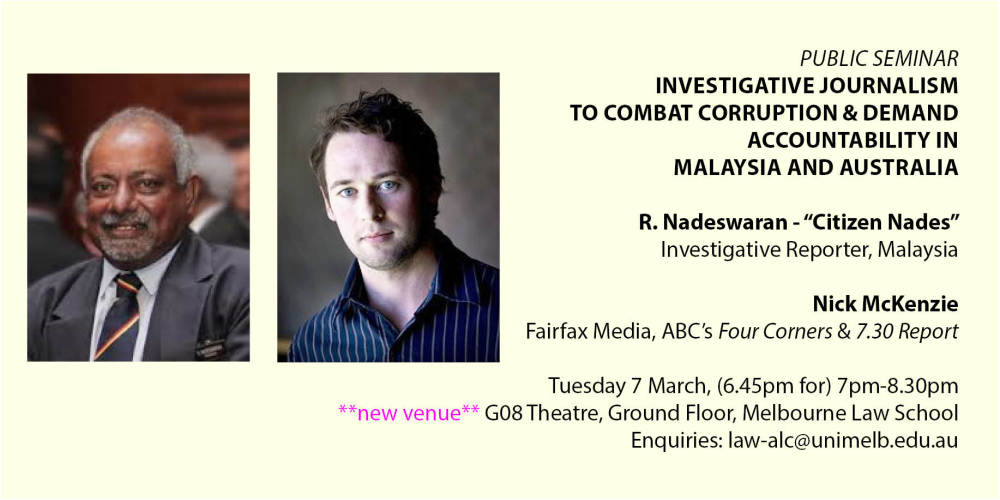 G08
Law
185 Pelham Street
Map
More information
T: 8344 6847
The Asian Law Centre presents a public talk and forum on investigative journalism and corruption, transparency and accountability in Malaysia and Australia to mark the Australian launch of 'Curi-Curi Malaysia: Stories Behind the Stories', by R. Nadeswaran.
Nadeswaran will address the challenges of demanding accountability and transparency in Malaysia in the absence of a Freedom of Information Act, and where the establishment increasingly resents the Fourth Estate. Nick McKenzie will explain why Malaysian corruption is relevant and important for Australians. Each speaker will talk for around 15 minutes and there will be ample time for audience participation and questions.
ABOUT THE SPEAKERS
R. Nadeswaran: Veteran investigative reporter R. Nadeswaran ("Citizen Nades") is a journalist by training, a lawyer by qualification and a crusader for good governance by choice. He began his career at 'The Malay Mail' in the 1960s, pioneered investigative reporting in Malaysia in the 1980s, and worked for many years as the Sun's Investigative and Special Affairs Reports editor. He has won numerous Malaysian and international awards for his body of work that includes exposes of corruption and abuse of power by government, and systematic exploitation of migrant workers.
Nick McKenzie is a leading Australian investigative journalist. He has broken some of Australia's biggest stories and is the most decorated journalist in the history of the Melbourne Press Club, having won 21 Quill Awards. He has also received the prestigious Walkley Award 7 times. He works for Fairfax Media (The Age, The Sydney Morning Herald and Australian Financial Review) and presents special investigations for the ABC's Four Corners and 7.30 Report.