Copyright and The Cost of Imagination Foregone
Free Public Lecture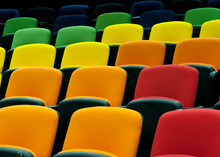 G08
Law G08
185 Pelham Street
Map
More information
T: 834 48957
As Australian policymakers enter the third decade of grappling with the challenge of adapting copyright law to the modern era, they enter a polarized, unproductive debate that pits tech innovation interests against the interests of creators invested in their copyrights. In reality, creators have at least as much interest in user rights (exception and limitations) as they do in copyright monopoly rights. Aufderheide will discuss her research, primarily from the U.S. but with some data from ongoing research in Australia, with creative organizations and creators on their use of copyright exceptions and limitations. The U.S. research demonstrates the difference in creative potential and productivity when creators are able to access functional exceptions.
Presenter
Professor Patricia Aufderheide

American University

Patricia Aufderheide is University Professor of Communication Studies in the School of Communication at American University in Washington, D.C., and founder of the Center for Media & Social Impact, where she continues as Senior Research Fellow. In 2017, she is a Fulbright Scholar at Queensland University of Technology. Her books include Reclaiming Fair Use: How to Put Balance Back in Copyright (University of Chicago), with Peter Jaszi; Documentary: A Very Short Introduction (Oxford), The Daily Planet (University of Minnesota Press), and Communications Policy in the Public Interest (Guilford Press). She cocoordinates the Fair Use and Free Speech project at the Center with Prof. Peter Jaszi of the Washington College of Law. Aufderheide has received numerous journalism and scholarly awards, including a research award from the International Communication Association in 2011, a career achievement award in 2008 from the International Digital Media and Arts Association and the Scholarship and Preservation Award in 2006 from the International Documentary Association.