This Discussion Group meets regularly to discuss recent competition related developments and decisions, as well as academic articles and other relevant publications.
The aim of the Group is to inform debate on competition issues both within academia and within the legal profession, as well as to provide another forum for dialogue between members of the ACCC, academics and practitioners in this field. These sessions are intended to be participatory and it is important to the quality of discussion that participants have read the decision, article or any other material provided in advance that is intended to be the subject of the meeting.
Academics, Higher Research Degree Students, practicing lawyers, economists and consultants who have an interest in competition law and economics are welcome to join the Discussion Group.
If you would like to join the mailing list or make any suggestions for topics the group might discuss at future events, please send your name and affiliation to our Centre Administrator.
Please share this page with your network and encourage them to join our discussion!
-----------------------------------------------------------------------------------------------------------------------------------------------
Upcoming Discussion Group
There is no Discussion Group for 2019 currently scheduled.
2018 Past Discussion Groups
Friday 14 December
Title: Economics of Privacy Regulation
Presenter: Dr. Elif Kiesow Cortez, Cybersecurity Center of Expertise, Hague University of Applied Sciences
Abstract:
This paper analyzes the shortcomings of the EU privacy regulation (GDPR) by focusing on the information asymmetries between the regulator and firms. This paper shows that existing privacy regulation is based solely on a "stick" approach and it argues that a "carrot" approach would produce better incentives for firms to comply with privacy rules. We emphasize that the regulator's access to information is limited and for this reason the regulating authority lacks the ability to effectively monitor firms' compliance. We propose a model that addresses information asymmetries and thereby improves incentives of market participants to comply with privacy rules in order to gain advantage over their competitors. The proposed model includes two steps.
First, firms are given privacy scores that reflect their level of compliance with privacy best practices. We recommend replacing the compliance vs. non-compliance approach with a differentiated privacy assessment mechanism: privacy ratings. A privacy rating system allows consumers to differentiate between firms that invest a high amount of resources in privacy-respecting practices and firms that invest merely minimum amount of resources in privacy-respecting practices. These ratings would enable consumers that value privacy to choose firms with good privacy-respecting practices, and it would allow firms to better estimate the optimum amount of resource allocation for privacy-respecting practices given their clienteles' preferences.
Second, we recommend that independent private actors with experience in data analysis be in charge of giving privacy ratings to firms. This system aims to improve the information asymmetry between firms and regulators by moving beyond traditional regulators and exclusively public monitoring mechanisms. A system where independent private actors with sufficient expertise are in competition with each other should result in more accurate privacy ratings.
This paper shows that existing EU privacy regulation is based solely on a "stick" approach and it argues that a "carrot" approach would produce better incentives for firms to comply with privacy rules. Furthermore, we point out that making privacy regulation more stringent might have unintended consequences. A combination of (1) overly stringent rules and (2) firms having an informational advantage over regulators can create incentives for firms to optimize around privacy regulations.
Dr. Elif Kiesow Cortez is a senior lecturer in the International and European Law Program and also a researcher for the Cybersecurity Center of Expertise at The Hague University of Applied Sciences (THUAS).

Elif is the coordinator of the Commercial Law Unit and the Cybersecurity Minor at THUAS. Before joining THUAS, Elif was a John M. Olin Fellow in Law and Economics at Harvard Law School. Elif's doctoral research at the Graduate School in Law and Economics, University of Hamburg, was funded by the German Research Association (DFG). During her doctoral studies, Elif was a visiting fellow at Harvard Business School and a visiting scholar at Berkeley School of Law. Elif's research is focused on utilizing economic analysis of law to provide recommendations for solving cooperation problems between public and private actors in the domains of data protection and privacy. Elif currently teaches courses on Data Protection and Privacy Compliance, Cybersecurity and Legal Analytics.
15 October 2018
Title: Parental Liability in Competition Law: What Justification?
Presenter: Professor Peter Whelan, University of Leeds
Abstract:
In an era in which competition law and enforcement are increasingly focused on the conduct of large and complex corporate groups, often operating in multiple jurisdictions, the basis on which parent companies should be liable for the actions of their subsidiaries has emerged as an important topic for consideration. This presentation acknowledges this fact and provides insights into why and how parental liability can be useful as an enforcement doctrine in competition law. For this purpose, it employs a case-study methodology and focuses on the European Commission's (controversial) approach to parental liability in the enforcement of EU competition law.
In contrast to a number of jurisdictions with mature competition regimes, the European Commission regularly imposes fines upon parent companies for the competition law violations of their subsidiaries. The Commission's approach has been particularly controversial because it allows for fines to be imposed even when the parent company has not actually engaged in any identifiable way in the anticompetitive conduct, did not have any awareness of the anticompetitive behaviour and has in fact done all that it reasonably can in the circumstances to disincentivise the subsidiary from engaging in unlawful practices.
The EU-level approach is justified on the basis that it helps to deter anticompetitive behaviour. Other jurisdictions have taken note of the Commission's stance and have adopted similar approaches to parental liability in their own competition regimes. Given this context, the presentation aims to analyse whether the deterrence-based justification for the imposition of parental liability in the context of EU competition law enforcement is indeed a robust one.
In order to achieve this aim, it first examines the extent to which holding the parent company liable for the infringement committed by the subsidiary is necessary in theory to achieve the deterrence of anticompetitive conduct. Following on from this analysis, it argues that, despite the (imperfect) theoretical link that can be established between parental liability and the deterrence of anticompetitive behaviour, it does not follow that the current approach in EU competition law is acceptable in principle. In particular, it identifies a serious limitation of in the EU-level's approach to deterring antitrust violations through the doctrine of parental liability: its disregard for the concept of 'wrongdoing' on behalf of the parent. On this basis, the presentation proposes, rationalises and critiques an alternative approach to parental liability for the enforcement of competition law.
The alternative approach would allow for parental liability in certain circumstances (in order to achieve deterrence) but would do so in a manner that injects a degree of 'wrongdoing' into the analysis of the parent's conduct. The alternative approach to parental liability arguably represents a more legitimate approach to competition law enforcement than that currently adopted at EU level and suggests a model that other jurisdictions should consider.
Professor Peter Whelan is a Professor of Law at the School of Law, University of Leeds, where he is the Deputy Director of the Centre for Criminal Justice Studies. He has a PhD in Law from St John's College, University of Cambridge. A qualified US Attorney-at-Law, Peter is an expert in competition (antitrust) law and criminal law. Peter has twice provided oral evidence to the New Zealand Parliament on cartel criminalisation. He was recently appointed as an International Expert by the Finnish Competition and Consumer Authority and in that position wrote a report advising the Finnish Ministry of Justice on the desirability of introducing criminal cartel sanctions in Finland. He has provided training in EU competition law to the Romanian judiciary and has delivered lectures on cartel criminalisation at both the Competition Tribunal of Chile and the National Economic Prosecutor's Office of Chile. He is a Non-Governmental Advisor to the International Competition Network, which comprises over 130 of the world's competition authorities. Peter has published widely in prestigious law journals (including Oxford Journal of Legal Studies, Cambridge Law Journal and Modern Law Review). He recently completed a monograph analysing the inherent challenges of European cartel criminalisation, which was published by Oxford University Press as part of their series Oxford Studies in European Law. He is currently writing an academic monograph on parental liability in EU competition law; it will be published in due course by Oxford University Press. To date he has presented his research in almost thirty countries.
7 April
Title: Digital Polyopoly
Presentor: Dr Barbora Jedlickova
Dr Barbora Jedlickova and Professor Mark Furse
Abstract:
The digital world is characterised by new technology, high speed and global connectivity. Innovation is constant and the exchange of information is endless. With the development of the digital age many have asked the question as to whether competition law, as introduced in the free market economies, is fit for the purposes of the digital economy and is thus still modern, or whether new ideas have to shape it in order to retain the trust in its purpose and application. One of the most significant areas of concern for competition law and two of the main features of the digital economy are the usage of Big Data and algorithms. Through ongoing connectivity, data gets exchanged, analysed and used via algorithms. Although it is not difficult to point to the benefits Big Data and algorithms have introduced for businesses, consumer welfare and the economy, these digital‐world tools can also be used by a particular entity to, for instance, exclude others from digital markets or facilitate collusion. These represent challenges for the enforcement of anti‐cartel laws, many of which are discussed in the book 'Virtual Competition ‐ The Promise and Perils of the Algorithm Driven Economy' (2016) written by Ezrachi and Stucke. In this book, among other things, Ezrachi and Stucke argue that it is the tacit collusion driven and maintained by algorithms that is problematic and challenging for the application of competition law.
In this research seminar, Dr Jedlickova will address this issue by analysing the different ways that algorithms lead to collusion. The analysis will draw conclusions for competition law in the digital world by comparing collusion created or facilitated by algorithms with the concepts of cooperative oligopolies and natural oligopolies. I will start with characterising and discussing a number of the features of the digital economy arguing, among other things, that the concept of horizontal competition does not fully capture collusion in the digital world, because in this world 'horizontal' competition occurs in vertical and 'diametric' ecosystems and thus horizontal collusion includes nonhorizontal elements and relationships. Thinking of algorithm collusion as 'digital polyopoly', Dr Jedlickova will explain what this notion constitutes, and analyse and compare it to the concepts of, and legal approaches to, cooperative and natural oligopolies to reveal how current competition law can or cannot apply to algorithm collusion.
Barbora Jedlickova is a Lecturer and a Fellow of both the Centre for Public, International and Comparative Law and the Australian Centre for Private Law at the TC Beirne School of Law at the University of Queensland. She holds degrees from the University of Glasgow in the UK (PhD in Law, 2012; and LL.M. with Commendation in International Competition Law and Policy, 2007) and from Masaryk University in the Czech Republic (Masters Degree in Law and Legal Studies, 2004). Dr Jedlickova specialises in competition law and is interested in comparative competition law, competition law theories and competition law in the digital economy. Her published research has focused primarily on vertical restraints, bargaining power, and economic and jurisprudential theories and arguments in competition law. It also includes analysis of specific markets with distinct issues such as the grocery retail market, the pharmaceutical market and the telecommunications market. Her research monograph Resale Price Maintenance and
Vertical Territorial Restrictions: Theory and Practice in EU Competition Law and US Antitrust Law published by Edward Elgar Publishing in 2016 has been sold in 28 countries in Europe, North America, Australia, Asia and Africa. Dr Jedlickova has been a visiting scholar at the University of Iowa, Boston University and the Court of Justice of the European Union. She has been an Australian reporter for the International League of Competition Law (LIDC) for four international LIDC projects. She has severed as a General Editor of the LAWASIA Journal and is a Co‐Editor of the University of Queensland Law Journal's 2018 special issue.
28 March
Title: Civil Penalties for Cartel Conduct: An OECD Review of the Australian Regime
Presentors: Sean Ennis and Pedro Carodesousa
Commentators: Professor Caron Beaton-Wells and Associate Professor Julie Clarke
Abstract:
For much of the early part of the last decade the focus of Australian competition law and enforcement was on the introduction and implementation of a criminal regime for cartel conduct, introduced in 2009. Last year saw the first criminal sentencing of a corporation since the cartel offences became law and the first prosecution individuals has just been announced. At the same time, there has been considerable activity in enforcement of the civil penalty regime for anti-competitive conduct over the last ten years. A large number of proceedings have been brought and penalties have been secured in a substantial proportion of them. In relation to cartel conduct, the size of these penalties has increased markedly in recent years. These acknowledgements aside, with the criminal regime now bedded down, a critical review of civil penalties is now timely. Building on prior OECD work comparing sanctions for competition law infringements, Australia has asked the OECD to review its penalties regime and compare it with the practices of a number of representative OECD jurisdictions. The OECD will publish its report from the review and senior OECD representatives will present the results in Australia in March 2018, including at this Competition Law & Economics Network discussion group on 28 March. The presentation will be followed by commentary by Professor Caron Beaton-Wells and Associate Professor Julie Clarke, presenting empirical work and analysis on corporate cartel penalties over more than four decades in this country.
The OECD's report on Australia's pecuniary penalty regime is available here and the slides from Sean Ennis and Pedro Caro de Sousa's presentation at the Discussion Group are available here.
A detailed paper by Caron Beaton-Wells and Julie Clarke on Australia's corporate penalties for cartel conduct is available here and the slides from their presentation at the Discussion Group are available here.
Listen to a podcast interview by Professor Beaton-Wells with Sean Ennis and Pedro Caro de Sousa here.
2017 Past Discussion Groups
17 October
This event was a jointly hosted by CLEN and Centre for Employment and Labour Relations Law
Title: Regulating the New Self-Employed in the Uber Economy: What Role for Competition Law?
Speaker: Dr. Victoria Daskalova, University of Twente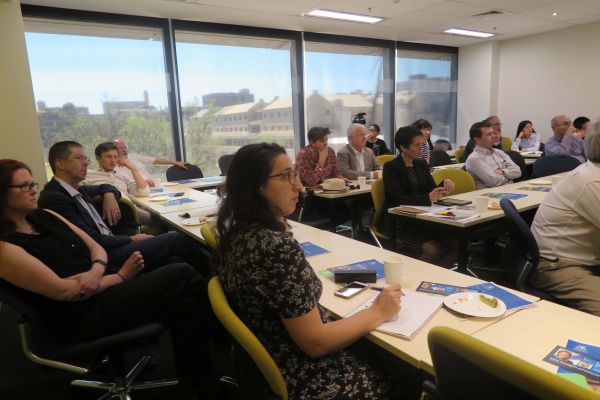 Abstract
Precarious independent contractors, gig workers, Uber drivers and crowdworkers are topics of discussion in the labour law scholarship all over the world, but the application of the competition rules to freelancers is much less often debated. However, competition is relevant not least of all because the cartel prohibition can and has been used to bar self-employed workers from collective bargaining. This presentation discusses the role that competition law can play in regulating the so called 'new self-employed' – precarious workers who are de jure considered to be micro-enterprises. Specific attention is paid to the newest type of 'new self-employed', namely those engaged for 'on-demand' work via matchmaking platforms like Uber or Amazon's Mechanical Turk. The presentation aims to canvas the different types of regulatory instruments available to address exploitation concerns in the context of the Uber economy and discusses the role that competition law can play in the design of a regulatory regime.
The working paper is available here.
Victoria Daskalova (BA, Duke University; LLM, MPhil, PhD, Tilburg University) is an Assistant Professor in Law, Governance & Technology at the University of Twente in the Netherlands. She is an extramural fellow at the Tilburg Law and Economics Center (TILEC) and a member of the Netherlands Institute for Law and Governance (NILG). In the past years, Victoria's work has focused on competition issues in the food supply chain, including private labels, unfair contract terms and the exercise of buyer power. Currently, Victoria's work seeks to examine questions related to sustainability, innovation and fairness in the application of competition law to new business models in the sharing economy, energy and health markets. In Melbourne, Victoria is involved in the Supermarket Power Project, coordinated by CLEN Director Prof. Caron Beaton-Wells. Her PhD dissertation on the application of the EU competition rules to buyer power is forthcoming in 2018 in the Edward Elgar Series on New Horizons in Law and Economics.
21 August 2017
This event was jointly hosted by CLEN and Asian Law Centre.
TItle: Competition law systems in the Philippines and Malaysia: Recent developments
Speaker: Mel Marquis, Professor of Law, European University Institute.
Abstract
There is remarkable diversity in the competition policy apparatus of ASEAN's member states. While the ASEAN rules establish a baseline, they convey little in terms of what is happening on the ground in particular countries. This seminar will examine developments in two of the ten member states, namely, the Philippines and Malaysia. Each of these regimes is new from a global point of view, and the Philippine Competition Act is only now taking full effect after a period of progressive introduction. The seminar will provide an overview of the two systems, focusing on the contents of the relevant laws and the corresponding enforcement practice. It will then (tentatively) evaluate the early steps taken in both countries and comment on the level of commitment reflected in the action taken to date.
Mel Marquis researches and teaches European and global competition law issues at the European University Institute in Florence and at LUMSA University in Rome. He is Co-Director of the Competition Law and Policy Workshop in Florence, and Co-Director of the Rome Antitrust Forum. He has taught at several universities in China and Japan, and is currently a Senior Fellow at the University of Melbourne Law School. He has published widely on a variety of competition law-related subjects. Prior to his work in academia he was a practicing lawyer in Brussels and in the United States. He is originally from Seattle.
20 April 2017
Title: India's Competition Law Reform Journey
Speaker: Mr. Pradeep S Mehta, Secretary General, CUTS International, and Secretary, CUTS Institute for Regulation & Competition
Abstract: The competition law in India enacted in 1969 was designed as a licencing law in the traditional socialist mould, which considered big as bad and profit was a dirty word. But that changed after the adoption of market reforms in 1990 which resulted in a modern competition law in 2002 (implemented effectively in 2007), which consigned the idea of big-being-bad to the dustbin, with another paradigm shift: from a rule of law to a rule of reason approach. How has the new competition law evolved and what are its current challenges? This presentation will provide insights on these questions by one of India's leading figures in this area.
Mr. Pradeep S Mehta (68)is the founder Secretary General of the Jaipur-based Consumer Unity & Trust Society (CUTS International), a leading economic policy research, advocacy and networking, non-governmental group in India, with offices in Nairobi, Lusaka, Accra, Hanoi and Geneva. CUTS was established in 1983 and has completed 30 glorious years. He has studied commerce at the Calcutta University and law at the Rajasthan University, Jaipur.
In April, 2012, Mehta has been nominated to the High Level Stakeholders Panel of WTO on Defining the Future of Trade. He has been Honorary Adviser to the Commerce & Industry Minister of India and NGO Adviser to the WTO Director General from 2002 to 2005.
Recently he has been a Member of the Planning Commission's Steering Committee on Industry and Chairman of its Task Force on National Competition Policy. Further, he has also Chaired Ministry of Road Transport and Highways's Working Group on Road Safety Education.
He serves on several policy-making bodies of the Government of India and Inter Governmental Organisations related to trade, investment, competition, environment and consumer affairs.
He chairs the advisory committee of the South Asia Watch on Trade, Economics and Environment (SAWTEE), Kathmandu. In the past, he has served on the governing boards of the International Centre for Trade and Sustainable Development (ITCSD); Geneva, Consumer Coordination Council, New Delhi and on the Global Policy and Campaigns Committee on Economic Issues of Consumer International, London.
A prolific writer, gifted speaker, skilled trainer and organizer in the social science field, Mehta has been named as one of the 30 most famous columnists in India by a leading newspaper in India. He has published/edited several books and papers on trade, investment, competition and development.
3 April 2017
Title: How scientific is Antitrust?
Speakers: Professor Michael Jacobs, Distinguished Research Professor of Law, DePaul University College of Law and Co-Director, International Aviation Law Institute
Prof Mark Williams, Prof Caron Beaton-Wells and Prof Michael Jacobs
Abstract: Fifty years ago, decrying the state of Antitrust analysis as an essentially political exercise, Robert Bork observed thet most antitrust commentators of the day were "playing tennis with the net down", engaged in a game that had no rules and whose outcomes were at best whimsical and at worst anti-consumer. A lot has changed in the past fifty years. Economics has overtaken antitrust analysis, and given it a purpose and a logic that it lacked in Bork's day. But despite the clear progress brought to it by the use of economics, Antitrust remains, in important ways, a political exercise: indeterminate, uninformed, and uncertain of its footing. If it's not exactly a case of "plus ca change plus c'est la meme chose", it bears a surprisingly close resemblance to one.
Michael Jacobs is a distinguished research professor of law at DePaul University and an internationally recognized expert in antitrust and competition law. His articles on those topics have appeared, among other places, in the Yale Law Journal, the Northwestern Law Review, the Minnesota Law Journal, the William and Mary Law Review, the Antitrust Law Journal, the Indiana Law Journal, the Journal of Competition Law and Economics, the Columbia Business Law Review, and the Berkeley Technology Law Journal. His work has been cited in two separate opinions of the United States Supreme Court. In 2000, he was the Fulbright Distinguished Chair for Italy. Professor Jacobs holds faculty positions at the University of New South Wales and Melbourne University, and is an honorary professor at Shandong University Law School in China. He lectures and consults extensively in the United States, Australia, Southeast Asia and China.
23 February 2017
Title: Access Barriers to Big Data
Speakers: Professor Daniel L. Rubinfeld, Robert L. Bridges Professor of Law (Emeritus), Professor of Economics (Emeritus), University of California
Prof Allan Fels AO, Prof Daniel Rubinfeld and Jose Ziebarth.
Prof. Daniel L. Rubinfeld's presentation can be downloaded here and the paper on which it was based is available on SSRN.
Abstract: While data were always valuable in a range of economic activities, the advent of new and improved technologies for the collection, storage, mining, synthesizing, and analysis of data has led to the ability to utilize vast volumes of data in real-time in order to learn new information. Part I explores the four primary characteristics of big data: volume, velocity, variety, and veracity and their effects of the value of data. Part II analyzes the different types of access barriers that limit entry into the different links of the data value chain. In Part III, we tie together the characteristics of big data markets including potential entry barriers, to analyze their competitive effects. The analysis centers on those instances in which the unique characteristics of big data markets lead to variants in the more traditional competitive analysis. Our analysis suggests that the unique characteristics of big data have an important role to play in analyzing competition and in evaluating social welfare.
Prof. Daniel L. Rubinfeld is Robert L. Bridges Professor of Law and Professor of Economics Emeritus at the University of California, Berkeley and Professor of Law at NYU. He served from June 1997 through December 1998 as chief economist and Deputy Assistant Attorney General for Antitrust in the U.S. Department of Justice. Professor Rubinfeld is the author of a variety of articles relating to antitrust and competition policy, law and economics, and public economics, as well as two textbooks, Microeconomics, and Econometric Models and Economic Forecasts. He has consulted for private parties and for a range of public agencies including the Federal Trade Commission, the Antitrust Division of the Department of Justice, and various State Attorneys General. He has been a fellow at the National Bureau of Economic Research (NBER), the Center for Advanced Studies in the Behavioral Sciences, and the John Simon Guggenheim Foundation. Professor Rubinfeld teaches courses in law and economics, antitrust, and law and statistics, and is a member of the American Academy of Arts and Sciences and a research fellow at NBER. He is a past President of the American Law and Economics Association.
14 February 2017

Title: Disruptive innovation and competition
Speakers: Professor Frédéric Jenny, Chairman of the OECD Competition Law and Policy Committee and Professor of Economics at ESSEC Business School, Paris.
Dr Wendy Ng and Professor Frédéric Jenny
Professor Caron Beaton-Well, Professor Frédéric Jenny and Professor Mark Williams
Abstract: Disruptive innovations, often based on the use of digital technology, have become an important feature of many markets. Yet competition authorities have struggled to meaningfully apply established antitrust or competition law concepts or frameworks in the context of such developments. Authorities are being faced with new and novel issues such as the application of competition law to multi-sided markets, the antitrust treatment of big data, the impact of mergers on the emergence of disruptive innovations, how to deal with mergers in which the target is a start up with little sales but very large capitalization, the possibility that pricing algorithms might collude and so on. This seminar will discuss some of these critical challenges, assess the case law to date in Europe and the US and suggest proposals to increase the relevance of traditional antitrust approaches.
Dr Frederic Jenny is a leading figure and expert in the competition law world. He studied in France and the United States and holds a Doctorat en sciences Economiques (University of Paris), a Ph.D in economics ( Harvard University) and a Master of Business Administration (ESSEC Business School). He is the Chairman of the OECD Competition Committee (since 1994), Co-Director of the European Center for Law and Economics of ESSEC ( since 2010) and Chair of the Commission for Deontology of the French Federation of Insurance Companies ( since 2016). He was previously Non Executive Director of the Office of Fair Trading in the United Kingdom (2007-2014 ), Judge on the French Supreme Court (Cour de cassation, Economic Commercial and Financial Chamber) from 2004 to August 2012, Vice Chair of the French Competition Authority (1993-2004) and President of the WTO Working Group on Trade and Competition (1994-2003). He has written extensively on Industrial Organization, Competition law, Trade and Economic Development and has been a Visiting Professor at numerous leading institutions, including University College, London, the University of Cape Town, Haifa University, Israel, New York University, Keio University, Tokyo and Wuhan University, China. Dr Jenny is member of the editorial board of several scientific journals ("Concurrences", " Journal of Competition Law and Economics", "World Competition"), member of the advisory board of the "Interdisciplinary Center for Competition Law and Initiative, Middle East Initiative" and Chairman of the scientific board of Consumer Unity Trust of India (CUTS), the largest consumer organization in India. He has been awarded the Legion of Honour (Officer) and the Order of Merit ( Officer) by the French President and he was the recipient of the Global Competition Review Lifetime Achievement Award for 2016. Dr Jenny has written extensively about trade, competition and economic development and has served as an adviser to many developing countries on competition and trade issues. He is a Senior Fellow in the Melbourne Law Masters and contributes to the MLM online Global Competition and Consumer Law program.
2016 Past Discussion Groups
18 November 2016
Title: The Effects Test Debate – Moving On.
Speakers: Roger Featherston, Commissioner, ACCC and Bill Reid, Partner, Ashurst
Bill Reid, Professor Caron Beaton-Wells and Roger Featherston
Abstract: The question whether the misuse of market power prohibition in section 46 of the Competition and Consumer Act 2010 should have an 'effects test' was aptly described by the Harper Review panel as 'one of the enduring controversies of competition policy in Australia'. As is well known, the Review panel recommended the amendment of section 46 to incorporate such a test, going against the recommendations of 10 out of 11 other inquiries that have addressed the question since 1976. After heated public debate and a supplementary consultation process, the government accepted the recommendation and an Exposure Draft Bill with the proposed form of amendment was released. In the meantime the ACCC released a draft Framework for misuse of market power guidelines and sought submissions in response. Much of the controversy and opposition to the proposed effects test has centred on the concern, aired largely on behalf of big business, that such a test will engender commercial uncertainty that in turn may chill competitive behaviour. This Discussion Group is not intended to revisit the question as to whether we should have an effects test. Rather, in the spirit of 'moving on', it will canvas how the new provision is likely to be interpreted and applied – in particular, by the ACCC and by the legal profession advising businesses that may be subject to it – and the extent to and ways in which it might affect business decision-making and behaviour.
The Exposure Draft Bill is accessible here, and the ACCC's draft Framework for misuse of market power guidelines is accessible here.
Roger Featherston was appointed a Commissioner of the ACCC in June 2014.
Roger is a full-time Commissioner who brings a wealth of experience from his previous roles as a lawyer in the private and public sectors. Roger was formerly a Partner at Mallesons Stephen Jaques, leading the firm's competition law team and advising a broad spectrum of commercial and governmental clients on competition law and enforcement issues, consumer protection, informal merger clearances, access and pricing issues, and telecommunications matters.
In addition to this extensive private sector experience, Roger acted for the former Trade Practices Commission early in his career and, for the two years before his appointment, acted as Special Counsel at the ACCC advising on a range of major competition and consumer protection matters.
Roger is a life member and former Chairman of the Business Law Section of the Law Council of Australia, and a member and former Chairman of its Competition and Consumer Law Committee.
Roger is a member of the ACCC's Enforcement Committee, Mergers Review Committee and Communications Committee.
Roger holds a Bachelor of Laws (Honours) and a Bachelor of Economics from the Australian National University.
Bill Reid is a pre-eminent competition lawyer in Australasia advising on major Australian and international
mergers and JVs, access to infrastructure issues, and competition and consumer protection litigation. He has a long track record of achieving merger clearance for clients in Australia and across the Asian region.
Bill advises on Australia's complex access to infrastructure regulation for clients in the transport, energy and information technology sectors, among other network industries. In litigation, Bill has represented clients in major cartel investigations and prosecutions in Australia and Asia, has successfully defended several of Australia's major monopolisation prosecutions, and assists clients with Australia's evolving consumer regulations.
Bill has extensive experience advising on competition investigations, compliance and other challenges around Asia, as many competition law regimes emerge across the region. Bill was based in Singapore for three years and continues to lead the firm's capability in Asian competition law, drawing on expertise around the region.
15 November 2016
** This Seminar was jointly hosted by the Competition Law & Economics Network (CLEN) and Global Economic Law Network (GELN)
Title: Trading Up to Enhanced Consumer Protection in the Shadow (or Light) of Free Trade Agreements
Speaker: Professor Luke Nottage, Co-Director, Australian Network for Japanese Law
Abstract: Public opinion nowadays tends to see FTAs as antithetical to consumer protection, exacerbating a regulatory race to the bottom. Yet political scientists have long observed that trade and investment liberalisation can lead to higher consumer protection standards. This seminar examines contemporary moves in that direction, and related phenomena such as transgovernmentalism, with a particular focus on product safety regulation and consumer redress in (Southeast) Asia.
Dr Luke Nottage is Professor of Comparative and Transnational Business Law at Sydney Law School, specialising in arbitration, contract law, consumer product safety law and corporate governance, with a particular interest in Japan and the AsiaPacific. He is founding CoDirector of the Australian Network for Japanese Law (ANJeL) and Associate Director of the Centre for Asian and Pacific Law at the University of Sydney. He is also Managing Director of Japanese Law Links Pty Ltd
17 October 2016 **CANCELLED**
** This Discussion Group will be hosted jointly by the Competition Law & Economics Network (CLEN) and the Asian Law Centre (ALC) **
Title: Regulating Abusing Superior Bargaining Power – A Difficult Call for China
Speaker: Dr Liyang Hou
Professor of competition law at KoGuan Law School, Shanghai Jiao Tong University (China).
Abstract:
China is now amending its Anti-unfair Competition Law (AUCL) and released a draft early this year. One of the most important changes proposed was to include a prohibition against the abuse of superior bargaining power (ASBP) in the AUCL for the first time in history. While ASBP has raised many problems in China, opinions are largely divided on how to regulate it. This presentation aims to shed some light on this issue within the Chinese setting. It first explores the complexity over ASBP by examining its significant overlaps with contract law, consumer protection rules, and antitrust law from a legal point of view. Subsequently, it switches to an economic analysis and builds an economic model that can reveal the social welfare loss of ASBP. A legal approach is developed accordingly in the end.
Dr. Liyang Hou:
Dr. Hou, Liyang is Professor of competition law at KoGuan Law School, Shanghai Jiao Tong University (China). He is currently Assistant Dean of International Relations, and Deputy Director of the Centre for Competition Law and Policy at KoGuan Law School. In 2007-2011 he worked as an assistant researcher at Faculty of Law, Katholieke Universiteit Leuven (Belgium). He joined KoGuan Law School in 2011, initially as associate professor and promoted as full professor in 2015. He is a member of Academic Society for Competition Law, the Pacific Telecommunications Council, Asian Competition Forum, and Shanghai Competition Law Association. He has (co-)published 5 books and more than 30 academic articles in internationally renowned journals. His research crosses over a number of domains, including competition law, telecommunications regulation, economic analysis of law and comparative law.
-----------------------------------------------------------------------------------------------------------------------------------------------
20 September 2016
** This Discussion Group was jointly hosted by the Competition Law & Economics Network (CLEN) and the Asian Law Centre (ALC) **
Title: RPM Regulation in Japan
Speaker: Associate Professor Yoshiteru Uemura
Associate Professor of competition law at Faculty of Economics, Hannan University and Visiting Scholar at Melbourne Law School.
Professor Mark Williams and Associate Professor Yoshiteru Uemura
Abstract:
In Japan, resale price maintenance (RPM) is, in principle, prohibited as an unfair trade practice, which means that the practice will be prohibited if it tends to impede fair competition without "justifiable grounds". The standard of illegality for RPM is proof of the likelihood of impeding fair competition in the relevant market. That means, for example, that the existence of an agreement between a manufacturer and distributors aiming to maintain resale prices is not, by itself, sufficient to make the agreement illegal under the provision of the Antimonopoly Act of Japan (AMA). Theoretically speaking, neither Japanese courts nor the Japan Fair Trade Commission (JFTC) can declare that an alleged RPM is illegal without examining the likelihood of impeding fair competition.
However, due in part to the rigid attitude of Japanese courts toward RPM and in part to the JFTC's strict regulations based on the guidelines concerning distribution and business practices, which stated that RPM has serious anticompetitive effects and so are likely to impede fair and free competition, almost all RPM was treated as if they were per se illegal like in the US before Leegin and in the EU before the 2010 guidelines on vertical restraints. In March 2015, the JFTC revised the distribution guidelines and clarified the "justifiable grounds" which may lead an exceptional RPM to legality under the AMA provisions. According to the guidelines, "justifiable grounds" might be granted within a reasonable scope and a reasonable term in a case where the RPM conduct would result in actual procompetitive effects, for example, through avoiding what is known as the "free rider" problem, promote inter-brand competition and increase production thus benefiting consumers, and the procompetitive effects would not result from any less restrictive alternatives other than RPM.
In the face of the newly-revised distribution guidelines, Associate Professor Uemura from Hannan University revisits RPM regulation by the AMA and analyzes the relevant precedents by Supreme Court of Japan, pointing out the characteristics of RPM regulation in Japan.
Associate Professor Yoshiteru Uemura
Yoshiteru Uemura is an Associate Professor of competition law at Faculty of Economics, Hannan University (Osaka, Japan), where he has been teaching competition law of Japan since 2004. Yoshiteru has an interest in the regulation of vertical restraints under competition laws. He is currently a visiting scholar at Melbourne Law School, where he is researching the regulation of resale price maintenance under Australian competition law. Previously, he conducted research on US antitrust laws at Fordham Law School (2010-2011) and Northwestern Law School (2012), and was a visiting researcher at the Competition Policy Research Center, Japan Fair Trade Commission (2012-2013). Before joining Hannan University, Yoshiteru worked for TMI Associates (Tokyo, Japan) as a researcher focused on Antimonopoly Act of Japan while studying in a doctoral course of business laws at Hitotsubashi University. He holds a Master of International Economic Laws from Yokohama National University and a Bachelor of Laws from Tohoku University. He is a member of Academic Society for Competition Law, the Japan Association of Economic Law, the Japan Association of International Economic Law, and the EU Study Association of Japan.
29 August 2016
Title: Competitive assessments of unilateral conduct: an economist's perspective
Speaker: Dr Jorge Padilla
Senior Managing Director and Head of Compass Lexecon Europe.
Professor Allan Fels AO, Dr Jorge Padilla and Wendy Ng
Abstract:
The legal test for misuse of market power (abuse of dominance as it is called in other jurisdictions) has been a long running controversy in Australian competition law. This discussion group will explore the fundamental economic foundations of a competitive assessment of unilateral conduct. Professor Padilla will examine what constitutes an abuse of dominance as a matter of economics, the economic criteria that could be used to identify anticompetitive unilateral behaviour, and the role of intent in that determination. The rules or standards that should be used in abuse of dominance cases and the rationale for adopting per se rules, the rule of reason, and rebuttable presumptions are also discussed. In addition to standards, the design of institutions to detect and deter anticompetitive conduct is also important. Professor Padilla also canvasses the strategic use of antitrust investigations in a globalised world.
Dr. Jorge Padilla
Dr. Padilla earned M. Phil and D. Phil degrees in Economics from the University of Oxford. He is Research Fellow at the Centro de Estudios Monetarios y Financieros (CEMFI, Madrid) and teaches competition economics at the Barcelona Graduate School of Economics (BGSE).
He has advised on various cases and given expert testimony before competition authorities and courts of several EU member states, as well as in cases before the European Commission. Dr. Padilla has submitted written testimony to the European General Court and the UK Competition Appeals Tribunal in cartel, merger control and abuse of dominance cases. He has also given expert testimony in various civil litigation (damages) and international arbitration cases.
Dr. Padilla has written numerous papers on competition policy and industrial organization in the Antitrust Bulletin, the Antitrust Law Journal, the Economic Journal, the European Competition Journal, the European Competition Law Review, the European Economic Review, the Fordham International Law Journal, Industrial and Corporate Change, the International Journal of Industrial Organization, the Journal of Competition Law and Economics, the Journal of Economics and Management Strategy, the Journal of Economic Theory, the RAND Journal of Economics, the Review of Financial Studies, the University of Chicago Law Review, and World Competition.
He is also co-author of The Law and Economics of Article 102 TFEU, 2nd edition, Hart Publishing, 2013.
-----------------------------------------------------------------------------------------------------------------------------------------------
11 August 2016
** This Discussion Group was hosted jointly by the Competition Law & Economics Network (CLEN) and the Global Economic Law Network (GELN) **
Title: 'Competition policy provisions in the TPP'
Speaker: Hassan Qaqaya
Senior Fellow - Melbourne Law Masters, member of faculty at Perdana University, Malaysia and lecturer on international economics at Webster University in Geneva.
Professor Mark Williams, Professor Caron Beaton-Wells and Hassan Qaqaya
Abstract:
Attempts to include competition provisions in multilateral agreements date back to the Havana Charter. One of the intentions, when GATT was drafted in the late 1940s, was for rules on competition policy to exist alongside those for trade in goods. The agreement on competition policy was not completed because the attempt to create an International Trade Organization. The close relationships between trade and competition policy have long been recognised. For example GATT and GATS contain rules on monopolies and exclusive service suppliers. The principles have been elaborated considerably in the rules and commitments on telecommunications. The agreements on intellectual property and services both recognise governments' rights to act against anti-competitive practices, and their rights to work together to limit these practices.
With the establishment of the WTO member-countries decided at the 1996 Singapore Ministerial Conference to look more closely at how trade relates to competition policy and set up, inter-alia, a new working group on the interface between trade competition policy (WGTCP),. Over several years the WTO WGTCP focused on the clarification of the following issues: core principles, including transparency, non-discrimination and procedural fairness, provisions on hardcore cartels; modalities for voluntary cooperation; and support for progressive reinforcement of competition institutions in developing countries through capacity building. This work was to lead to negotiations to start after the Ministerial Conference in Cancun, in 2003 "on the basis of a decision to be taken, by explicit consensus, at that session on modalities of negotiations". However, in Cancun there was no consensus, and the members agreed to drop competition policy from the Doha agenda and therefore no work towards negotiations would take place within the WTO.
On 5 November 2015, twelve years after the competition policy was dropped from the WTO Doha agenda, the full text of the Trans-Pacific Partnership (TPP), which was negotiated by 12 partner countries across the Asia-Pacific region, was published after more than five years of negotiations. The agreement includes a substantial chapter concerning competition policy, which went beyond what the WGTCP was aiming for, and it is likely to have an important future impact on the competition law regimes not only in the Asia Pacific region but in other large regional trade agreements worldwide.
In this Discussion Group, the former head of the UNCTAD Competition and Consumer Policy Branch, Hassan Qaqaya, will review the provisions of the TPP's competition policy chapter including the commitment to adopt a competition law; procedural fairness; private rights of action; cooperation and transparency and consumer protection, and will discuss some of the major concerns raised by competition experts and observers.
Hassan Qaqaya:
Hassan Qaqaya joined the United Nations Conference in Trade and Development in 1981 and was the head of the Competition and Consumer Policies Branch from 2006 to 2015. He specialises in competition and consumer policy, financial regulation, international trade, and anti-dumping. In these areas, he has advised governments, public and private entities, and young competition and consumer agencies in over sixty developing countries and economies in transition. In various capacities he has been involved in teaching in this field and has contributed to forty UN reports and studies. He established the UNCTAD Research Partnership Platform which brings together research institutions, universities, competition authorities, business and civil society and provides a platform for joint research and other activities with UNCTAD. Hassan holds a Master of Laws in International Law from the University of Lausanne and MSC in economics from the London School of Economics. He has been travelling the world for the last 20 years, assisting numerous countries in drafting competition laws and application guidelines, and organising capacity building workshops. He is a Senior Fellow in the Melbourne Law Masters and contributes to the MLM online Global Competition and Consumer Law program.
-----------------------------------------------------------------------------------------------------------------------------------------------
14 July 2016
Title: 'The Galvanised Steel Tanks Cartel Trial'
Speaker: Professor Andreas Stephan
Professor of Competition Law at the Centre for Competition Policy and Law School (University of East Anglia) and Senior Fellow at the Melbourne Law School
Professor Andreas Stephan and Professor Caron Beaton-Wells
Abstract:
In June 2015 – after more than a decade of the cartel offence being in force – the UK saw its first criminal cartel trial to be contested before a jury. The three defendants did not contest the fact they had met with competitors, fixed prices, agreed customer lists or rigged bids. Their defence was that they had not entered into the arrangement dishonestly – the requisite mental element of the offence. During the course of the trial the Competition and Markets Authority failed to convince the jury that the defendants had acted dishonestly and indeed many of the witnesses called by the prosecution gave evidence suggesting just the opposite. The jury were quick to acquit without having heard any evidence from the defence. Throughout the trial, Andreas Stephan acted as an expert advisor the defence team of Clive Dean. In this talk he will give a unique insight into how the criminal trial unfolded and the implications for future prosecutions and cartel criminalisation more generally. This will be of great interest to competition lawyers awaiting the first criminal prosecution in Australia.
Professor Andreas Stephan
Andreas Stephan is a Professor of Competition Law at the Centre for Competition Policy and Law School of the University of East Anglia in Norwich (UK). He is also a Senior Fellow at the Melbourne Law School. Andreas has a background in both Law and Economics and has widely published research on all aspects of cartel enforcement. This has included empirical work on leniency programs, settlement procedures and normative work on the issues surrounding sanctions and the criminalization of cartel conduct. Among his most notable works are two public survey studies focused on popular perceptions of price fixing and antitrust enforcement. The first of these studies was cited by the UK government in support of dropping the 'dishonesty' requirement from the criminal cartel offence under the Enterprise Act 2002. He is a Non-Governmental Advisor to the International Competition Network and recently authored their 'Competition Culture' study report. Andreas has advised government departments on antitrust and economic policy, including the UK's Department of Business, Innovation and Skills. In 2015 he acted as an expert advisor to the legal team of Clive Dean, in the UK Galvanised Steel Tanks cartel trial.
-----------------------------------------------------------------------------------------------------------------------------------------------
7 April 2016
Title: 'Understanding data-driven on-line personalised price discrimination'
Speaker: Professor Karen Yeung
Professor of Law and Director of the Centre for Technology, Ethics, Law and Society (TELOS) at the Dickson Poon School of Law, King's College London
Abstract:
Price discrimination, in which the price offered for goods and services is not uniform but varies according to particular criteria or circumstances, is well established in consumer retailing. Well-known forms of price discrimination include loyalty discounts, volume or multi-buy discounts, and the offering of status based discounts for students, the elderly and the unemployed. While price discrimination has long been the subject of critical examination by economists and competition law scholars, the rise of big data analytic techniques, which allow for detailed tracking of the on-line behaviour of individual consumers raises the possibility of much more sophisticated forms of price discrimination. Examples include the following:
In 2000, Amazon.com infuriated many customers when it sold DVDs to different people for different prices. In response to the public outcry which followed, Amazon claimed it was merely a test and ultimately refunded the price difference to people who paid more. Yet in 2012, an Oregon newspaper reported that consumers were again finding that the prices charged for items on Amazon.com were highly variable, with one consumer placing a set of mahjongg tiles in her shopping basket offered at a price for $54.99, but a few minutes later, noticed that the price of the item in her basket had jumped to $79.99, and when she cleared the cart and tried again, the item was then priced at $59.99;
In 2012, the Wall Street Journal investigation found that the Staples Inc. website displays different prices to people after estimating their locations. Not only that, but Staples appeared to consider the person's distance from a rival brick-and-mortar store (either OfficeMax Inc. or Office Depot Inc). If rival stores were within 20 miles or so, Staples.com usually showed a discounted price.
The pricing practices of on-line travel site Orbitz have also been the subject of attention, with the Wall Street Journal also reporting in 2012 that the site offered higher prices to customers (and higher end hotels) to those who visited their site with a Mac computer rather than a PC, the rationale being that Apple computers are more expensive than PCs, so Mac users are probably wealthier than PC users.
The aim of this discussion group is to discuss insights from an ongoing project to subject big data driven price discrimination to critical scrutiny in order to evaluate its legitimacy (broadly defined to include legality). Although the primary legal lens for analysing these practices is that of European competition law and policy, it also considers how an economically informed evaluation of on-line price discrimination coheres with or contradicts popular conceptions of fairness in pricing. Our aim is to develop what might be understood as a normative theory of pricing justice, or at least its beginnings, in order to provide an analytical frame for evaluating both on-line price discrimination and price discrimination more generally, with a view to making concrete policy recommendations to respond to pricing practices of this kind.
The paper on which the presentation by Professor Karen Yeung at this discussion group will be based is authored by Professor Yeung, with Chris Townley, Reader in Law, King's College London, and Eric Morrison,Senior Manager – Economics and Policy, PricewaterhouseCoopers.
Professor Karen Yeung:
Karen Yeung is a Professor of Law and Director of the Centre for Technology, Ethics, Law and Society (TELOS) at the Dickson Poon School of Law, King's College London. Her expertise and research interests lies in two spheres: regulatory governance studies and in the governance of, and governance through, new and emerging technologies. Her current research focuses on critically understanding the legal, democratic and ethical implications of artificial intelligence, Big Data driven predictive decision-making and advances in neuroscientific techniques across a wide range of policy domains including commerce, healthcare, legal services and the enforcement of law. She is currently a member of the Nuffield Council of Bioethics Working Group on Genome Editing, and has acted as advisor to, and given evidence before, various government bodies, regulators and policy-makers. She completed her undergraduate degrees at Melbourne Law School and the Melbourne University Faculty of Business and Economics, subsequently obtaining a Bachelor of Civil Law and a D Phil from Oxford University. She is admitted to practice as a Barrister and Solicitor of the Supreme Court of Victoria (Australia), having completed a brief stint in professional legal practice.
-----------------------------------------------------------------------------------------------------------------------------------------------
10 March 2016
Title: 'Patent Assertion Entities – Challenges for Competition Law'
Speaker: Professor Damien Geradin
Professor of Competition Law and Economics at Tilburg University and the William W Cook Global Law Professor at the University of Michigan Law School
Photo (LH) to (RH): Prof Allan Fels AO, Prof Damien GERADIN,
Prof Caron Beaton-Wells, Assoc Prof Clare Ye, Prof Ping Lin.
Abstract:
Patent Assertion Entities ("PAEs") are firms acquiring patent portfolios, which they monetise through licensing agreements with manufacturers. They are playing a growing role in the United States, but also in Europe. Their activities are controversial in that while they may be a source of efficiencies, they may also create anticompetitive harm. Given the growing trend of operating companies transferring patents to PAEs in order to increase their licensing revenues, the risks of anticompetitive harm created by PAE activities must be taken seriously. Against this background, in this Discussion Group Professor Geradin, a specialist in the intersection between intellectual property and competition law, will explain the operation and activities of PAEs and clarify what should be understood by the terms practicing-entities, non-practicing-entities, PAEs and "patent trolls". He will discuss the "positive" and the "negative" cases for PAEs and the competition law provisions that can be used to place limits on the activities of PAEs. As part of this analysis, Professor Geradin will distinguish between the competition law issues that may be created by "pure" PAEs and those that may be created by "hybrid" PAEs. Using hypotheticals he will argue that while pure PAEs create risks of exploitation, hybrid PAEs create exclusionary concerns, as they can be used by operating companies to harm their rivals on downstream product markets. These exclusionary concerns are particularly serious when the operating company retains a significant degree of control over the activities of the PAE after the transfer of the patents has been completed.
Professor Damien Geradin:
Damien Geradin is a Professor of Competition Law & Economics at Tilburg University (the Netherlands) and at George Mason University School of Law (Washington, DC). He is also a visiting Professor at University College London and has held visiting positions at major US universities, including Columbia, Harvard, Michigan and Yale. His areas of teaching and research include antitrust, intellectual property and the regulation of network industries. He has published more than 60 legal and economic papers in leading academic journals and is co-editor –in-chief of the Journal of Competition Law and Economics. The founding partner of a boutique consultancy, Edge Legal, Professor Geradin is also a member of the Brussels Bar and has been a partner at leading international law firms, practising European Union competition law. He has been involved in a large number of European Commission cases, notably in proceedings against Qualcomm, Microsoft, and Slovak Telekom. He has also assisted clients in numerous cases before the EU courts and been involved as counsel or expert witness in a number of major arbitration matters raising competition law and/or IP and/or EU law issues. He was a Fulbright research scholar at Yale Law School and holds a PhD from Cambridge University. Professor Geradin teaches a cutting edge subject on competition and new technologies in the Melbourne Law Masters program on-campus and is a member of the international panel contributing to the Law School's fully online program in global competition and consumer law.

-----------------------------------------------------------------------------------------------------------------------------------------------
2015 Past Discussion Groups
27 November 2015
Professor Caron Beaton-Wells (Melbourne Law School)
Book Launch and Presentations - Anti-Cartel Enforcement in a Contemporary Age: Leniency Religion.
22 October 2015
Assistant Professor Nell Zhou (School of International Studies, University of International Business and Economics [UIBE], Beijing)
The Implementation of Chinese Anti-Monopoly Law at its Seven Year Juncture: Retrospect and Prospect.
21 July 2015
Professor Daniel Sokol (Levin College of Law, University of Florida, USA)
Comparative Cartel Prosecutions.
28 May 2015
Professor Michal Gal (Faculty of Law, Haifa University Israel)
The Hidden Costs of Free Goods: Implications for Antitrust Enforcement
4 May 2015
Ruth Nichols (Trade Law Unit, New Zealand Ministry of Foreign Affairs and Trade)
Competition Policy in International Trade Agreements
20 March 2015
Brooke Dellavedova (Principal, Maurice Blackburn) and Ian B. Stewart (Victorian Bar)
A "Market" Requirement for Per Se Cartel Prohibitions? Recent Cases and Controversies.


-----------------------------------------------------------------------------------------------------------------------------------------------