Inequality at the Twilight of Economic Neo-Liberalism
Free Public Lecture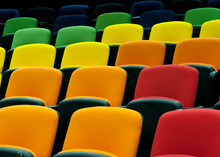 Medley Theatre
Medley Theatre
Tin Alley
Map
Many of the long-established truisms of neo-liberal economic policy appear to be in retreat. The proposition that economic prosperity will lift all boats, that the private sector and free trade are forces for social good, that states should avoid intervening in markets, and that inequality should be addressed by welfare policy: these have all come under increasing challenge in Australia and elsewhere. Signs of the times are the interest shown in the work on inequality of Thomas Piketty, or the social media impact of a little known historian at Davos calling for the rich to be taxed more, or the Royal Commission's highlighting a culture of greed in the financial sector.
If neo-liberalism as an idea and as a set of policies is indeed in retreat, then what comes next? What does the shifting landscape mean for existing approaches to tackling inequality? Does poverty and inequality go beyond being about welfare policy? What replaces previous ideas that low wages motivate poor people? Dr Richard Denniss will discuss this intellectual shift in conversation with Professor Sundhya Pahuja.
Presenters
Dr Richard Denniss

Chief Economist
The Australia Institute

Dr Richard Denniss is the Australia Institute's chief economist. He is an economist with a particular interest in the role of regulation. Prior to taking up his current position he was an Associate Professor at the Crawford School of Economics and Government at the Australian National University where he continues to hold an adjunct appointment. Richard has also worked as Strategy Adviser to the Leader of the Australian Greens, Senator Bob Brown, Chief of Staff to the Leader of the Australian Democrats, Senator Natasha Stott Despoja, and lectured in economics at the University of Newcastle. Richard has published extensively in academic journals, is a frequent contributor to national newspapers and was the coauthor of the best selling Affluenza (with Dr Clive Hamilton) and is the coauthor of An Introduction to Australian Public Policy: Theory and Practice (with Dr Sarah Maddison).

Professor Sundhya Pahuja

Director of the Institute for International Law and the Humanities
Melbourne Law School

Sundhya Pahuja is the Director of Melbourne Law School's Institute for International Law and the Humanities (IILAH). Her research focuses on the history, theory and practice of international law in both its political and economic dimensions. She has a particular interest in international law and the relationship between North and South, and the practice, and praxis, of development and international law. Sundhya has been awarded the American Society of International Law Certificate of Merit (2012), the Woodward Medal for Excellence in the Humanities and Social Sciences (2014) and a Fulbright Senior Scholar award which she took up in 2016 at the Institute for Global Law and Policy at Harvard Law School. In 2017, Sundhya will hold a fellowship at the Stellenbosch Institute for Advanced Studies (STIAS) in South Africa. Sundhya has been invited to give the 2018 Lauterpacht Lectures at the University of Cambridge. From 2012 – 2015, Sundhya concurrently held a Research Chair in Law at SOAS, University of London, and in 2014, served as Director of Studies in Public International Law at the Hague Academy of International Law. She has held visiting appointments at the LSE, NYU and UBC, currently serves as core faculty at the Harvard Law School Institute for Global Law and Policy Workshop, as Affiliate Faculty of the European Collaborative Doctoral Programme in Globalisation and Legal Theory, and holds Visiting Chairs at Birkbeck and SOAS. Sundhya's published works include the books, Decolonising International Law: Development, Economic Growth and the Politics of Universality(Cambridge University Press, 2011), as well as the edited collections, Reading Modern Law: Critical Methodologies and Sovereign Formations (Routledge, 2012) (coedited with Ruth Buchanan and Stewart Motha), and Events: The Force of International Law (Routledge, 2011) (coedited with Fleur Johns and Richard Joyce). Sundhya is currently writing a book on International Development with Ruth Buchanan and Luis Eslava as part of the RoutledgeCavendish Critical Approaches to Law series. Her current projects also include an Australian Research Council funded project on International Law and the Cold War, with Gerry Simpson and Matthew Craven, and a large project on the history of the corporation in international law from the early modern period to the present day. Sundhya was a founding member of the Legal Theory Interest group of the European Society of International Law, and the trilingual network Global Justice/Injustice with Emmanuel Jouannet and Albane Geslin (Sciences Po), and serves on the editorial board of the Australian Feminist Law Journal, and of the editorial advisory board of several journals including Humanity, the Melbourne Journal of International Law, the Law, Social Justice and Global Development Journal (LGD, the City University of Hong Kong Law Review, and the London Review of International Law. Sundhya teaches across public international law, international law and development, trade, development and human rights, globalization and law, and legal theory, and serves as the Director of Studies in the Melbourne Law Masters in Public International Law and Law and Development, and as codirector of studies in Public and International Law. Sundhya is interested in questions of pedagogy and speaks regularly on questions of research supervision and methodologies. In 2015, together with Luis Eslava, she was the University of Melbourne's nominee for the Australian Awards for Teaching Excellence. Sundhya also supervises doctoral students in the areas; of international law and legal theory; heterodox economics, law and development; development and migration; international law, visual culture and theories of globalisation; environmental rights and international migration law. She welcomes research proposals from students interested in critical and theoretical approaches to topics within any of her areas of research interest. For several years Sundhya chaired the Committee of Management at the Darebin Community Legal Centre in Melbourne. Before entering academia, Sundhya practiced as a commercial lawyer, and worked as a research associate in international law and human rights at the EUI in Florence.