Book Launch Remedies for Breach of Privacy edited by Jason NE Varuhas & Nicole Moreham
Launch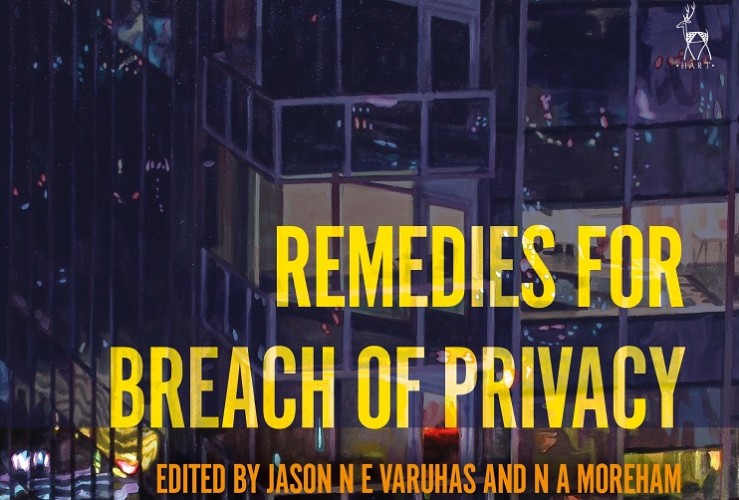 Room 920
Melbourne Law School
185 Pelham Street
Map
The book will be introduced by the editors, Professor Jason N E Varuhas, Melbourne Law School and Professor Nicole Moreham, Victoria University of Wellington.
The book will be launched by Hon Chris Maxwell AC, President of the Court of Appeal of Victoria, and Hon Marcia Neave AO, former Judge of the Court of Appeal of Victoria
Over the last 15 years, privacy actions have been recognised at common law or in equity across common law jurisdictions, and statutory privacy protections have proliferated. Apex courts are now being called upon to articulate the law governing remedies, including in high-profile litigation concerning phone hacking, covert filming and release of personal information. Yet despite the practical significance of the courts' approach to damages, injunctions and other remedies for breach of privacy, very little has been written on the topic. This book comprehensively analyses these important developments from a comparative perspective and provides solutions to issues which are coming to light as higher courts forge this remedial jurisprudence and practitioners look for guidance. Significantly, the essays are important not only for what they say about remedies, but also for the attention they give to the nature of the new privacy actions, providing deep insights into substantive law.
The book includes contributions by academics, practitioners and judges from Australia, Canada, England, New Zealand and the United States, who are expert in the legal disciplines implicated by privacy remedies, including torts, equity, public law and conflict of laws. By bringing together this range of perspectives, the book offers authoritative insights into this cutting-edge topic. It will be essential reading for all those seeking to understand and resolve the new issues associated with privacy remedies.
Copies of the book will be available for purchase at the event.
Presenters
The Honourable Marcia Neave,

The Honourable Chris Maxwell,

Professor Nicole Moreham

Victoria University of Wellington

Dr Moreham specialises in the law of privacy. She is the principal editor and contributor to leading English privacy work, The Law of Privacy and the Media (3ed, Oxford University Press, 2016) and has published numerous articles on the protection of privacy in England and Wales, New Zealand, and Europe (including in the Law Quarterly Review, Cambridge Law Journal and Modern Law Review). In 2011, Dr Moreham was awarded a Rutherford Discovery Fellowship by the Royal Society of New Zealand. She has recently published a collection of essays called Remedies for Breach of Privacy (Hart Publishing, 2018) with Ass Prof Jason Varuhas of Melbourne University and is currently working on a monograph entitled The Principles of Privacy to be published with Hart Publishing in 2019. Before joining the Law Faculty at Victoria of Wellington in 2006, Dr Moreham was a permanent Fellow and Lecturer in Law at Gonville and Caius College, University of Cambridge. She also completed her Masters and PhD at Caius under the supervision of the late Tony Weir (the former funded by a Commonwealth Scholarship and the latter by a Tapp Studentship and Ethel Benjamin Award). Before leaving for Cambridge in 1998, she completed an Honours degree at the University of Canterbury and worked as a judge's clerk at the New Zealand Court of Appeal.

Professor Jason Varuhas

Melbourne Law School

Dr Jason N E Varuhas (BA LLB (Hons) VUW, LLM UCL, PhD Cambridge) is Professor at the University of Melbourne, and CoDirector of Studies for the Government Law and Public and International Law programmes on the Melbourne Law Masters. He is also an Associate Fellow of the Centre for Public Law at the University of Cambridge. Dr Varuhas has previously held the positions of Junior Research Fellow at Christ's College, University of Cambridge, Senior Lecturer at the University of New South Wales, and has been a Fox International Fellow at Yale University, Watts Visiting Fellow at the British Institute of International and Comparative Law, London, and ByeFellow of Downing College and Christ's College, Cambridge. In 2019 he will be the Robert S Campbell Visiting Fellow in Law at Magdalen College, Oxford, Allan Myers Visitor at the University of Oxford Law Faculty, and a Visiting Fellow at the Victoria University of Wellington Faculty of Law. He was formerly Judge's Clerk to Justice Mark O'Regan, New Zealand Court of Appeal (now of the New Zealand Supreme Court), and is a Barrister and Solicitor of the High Court of New Zealand. Dr Varuhas's research and teaching interests cross the public lawprivate law divide; his specialisms lie in administrative law, the law of torts, the law of remedies, and the intersection of public and private law. He has published on topics in private and public law in leading international journals including the Cambridge Law Journal, Law Quarterly Review, Oxford Journal of Legal Studies and Modern Law Review, and in edited collections, has presented at international conferences across the common law world, and authored policy reports, including a major policy paper for a leading UK thinktank, Judicial Capture of Political Accountability (London 2016). He has been consulted by government, thinktanks and the media, as well as on litigation. Dr Varuhas is the author of Damages and Human Rights (Hart Publishing, 2016), a major work on damages for breaches of basic rights, which was awarded the UK Society of Legal Scholars Peter Birks Prize for Outstanding Legal Scholarship 2016 and the 2018 Inner Temple New Authors Book Prize. The book has been cited by the UK Supreme Court in LeeHirons v. Secretary of State for Justice [2016] 3 WLR 590, the English High Court in Alseran v. Ministry of Defence [2018] 3 WLR 95 and by the Federal Court of Australia in its landmark damages decision in Wotton v. State of Queensland (No 5) [2016] FCA 1457. The book stems from Dr Varuhas's doctoral thesis for which he won the Yorke Prize at the University of Cambridge. Dr Varuhas is the coauthor of a leading text on English administrative law, Administrative Law (5th edn, Oxford University Press, 2017), and contributes Book V on Damages under the Human Rights Act of McGregor on Damages (Justice James Edelman (ed), 20th edn, Sweet and Maxwell, 2017). He has also recently published four coedited volumes, Public Law Adjudication in Common Law Systems (Hart Publishing, 2016); Equitable Compensation and Disgorgement of Profits (Hart Publishing, 2017); The Unity of Public Law? Doctrinal, Theoretical and Comparative Perspectives (Hart Publishing, 2018); Remedies for Breach of Privacy (Hart Publishing, 2018). Dr Varuhas is currently working on two books: Administrative Law (Hart Publishing, 2019), a critical introduction to administrative law, and The Law of Torts (6th edn, LexisNexis, 2020), the leading treatise on the Australian law of torts. Dr Varuhas is a founder and coconvenor of the Public Law Conferences, a biennial series of major international conferences on public law, the most recent being held at Melbourne Law School in July 2018, for which he was the convenor. He has previously coorganised international workshops on equitable compensation and disgorgement of profits (UNSW 2015) and remedies for breach of privacy (Melbourne 2016). In 2018, Dr Varuhas will convene and teach the JD remedies course, and convene and teach two new courses on the Melbourne Masters: Law and Public Administration, with Professor Richard Rawlings (UCL), and Government Liability with Professor Mark Aronson (UNSW). He serves on various committees in the Law School, including as Chair of the Scholarships Committee.