Book Launch - Changing Fortunes: A History of the Australian Treasury
Launch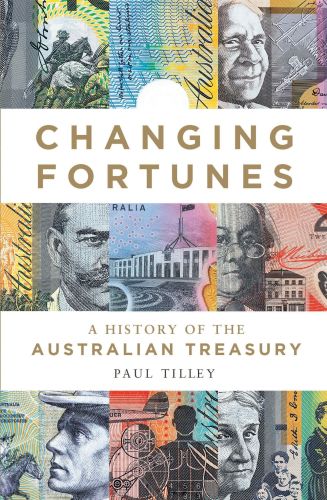 Terrace Lounge
Walter Boas

Map
More information
T: 90357704
Paul Tilley, senior Fellow at the Law School who is teaching Tax Policy in the Melbourne Tax Masters, will be in conversation with The Hon Steve Bracks AC and Director Professor Miranda Stewart, on this important new book by Paul, published by Melbourne University Press.
Changing Fortunes: A History of the Australian Treasury examines how Treasury has evolved in its economic thinking and its influence on policy. The book tracks Treasury's history since Federation, with a focus on the modern era since the 1976 split with Finance. Treasury has been at the centre of every major economic policy issue the Australian Government has faced, its role evolving from the government's bookkeeper at Federation in 1901 to today's economic policy advising agency. Throughout its history Treasury has been a robust and stable institution with a consistent market-oriented economic framework. It has supported reformist Treasurers such as Keating and Costello, and been a voice of caution when political imperatives have pushed governments down economically damaging paths. At times, though, Treasury advice has been ignored and it has been pushed out into the cold. Amidst the political chaos of recent times, Treasury has been dragged closer to government and become a less effective policy adviser. As a result, there has been a lack of a consistent government economic reform narrative over the last decade.
Hosted by the Tax Group and the Melbourne School of Government
Presenters
Paul Tilley

Senior Fellow
University of Melbourne

Paul Tilley was an economic adviser to governments for 32 years, working at senior levels in all parts of Treasury, as well as other key agencies such as the Department of Prime Minister and Cabinet, the Treasurer's office and the OECD. He is now a Senior Fellow at the Melbourne Law School, a Visiting Fellow at the Australian National University Tax and Transfer Policy Institute and works with a number of nongovernment organisations.

The Honourable Steve Bracks

The Hon Steve Bracks AC was Premier of Victoria for eight years. He now advises several leading Australian finance and service sector corporations. Mr Bracks also holds two major honorary positions: as an Adviser to the Prime Minister of TimorLeste and Honorary Chair of The Union Education Foundation. He is Chairman of the superannuation fund Cbus; Chairman of Maurice Blackburn Lawyers; Chairman of the Melbourne Cricket Ground (MCG) Trust; and Chairman of Victory Offices. He is a non executive Director of the Bank of Sydney and until recently of Jardine Lloyd Thomson Australia (20072019). He is also a member of the Australian Republican Movement's Republican Advisory Panel (RAP); and, the West of Melbourne Economic Development Alliance (WoMEDA).

Professor Miranda Stewart

Director of studies, International Tax and Tax
University of Melbourne

Miranda Stewart is Professor of Law at the University of Melbourne Law School where she is Director of the Tax Group and is a Fellow at the Tax and Transfer Policy Institute at the Crawford School of Public Policy, The Australian National University. Miranda was the inaugural Director of the Institute from 2014 to 2017.