Elections, Primordialism and Intolerance in Indonesia
Seminar/Forum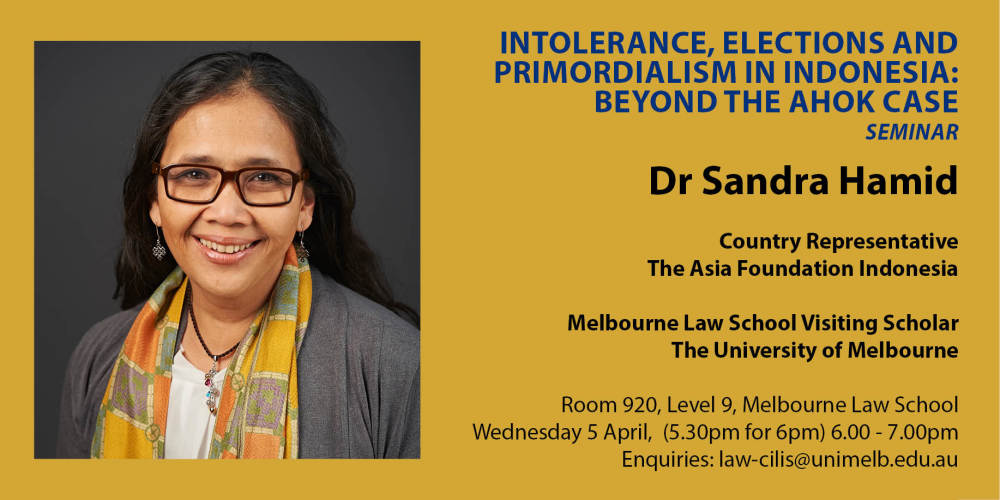 Room 920, Level 9
Law
185 Pelham Street
Map
More information
T: 03 8344 6847
Indonesia was built on the premise of pluralism, as enshrined in the state ideology, Pancasila, but tension over the relationship between religion and the state has always been present. Recently, 'othering' along primordial lines has become a prominent part of political discourse. During the 2017 Jakarta elections, the country saw divisive public debates and mobilisation, anchored in the intersection of politics and faith, driven by intolerance and primordialism. Having ignored the issue for decades, most Indonesians were caught off guard. Why did this happen, and what does it mean for Indonesian democracy? In this seminar, Dr Hamid asks what has allowed religious intolerance to take centre stage in Indonesia's electoral democracy.
Presenter
Dr Sandra Hamid

Country Representative
The Asia Foundation Indonesia

Dr Sandra Hamid is The Asia Foundation's Country Representative to Indonesia (2012 present). Formerly she served as the Senior Director for Programs (2008 2011), Programs Director for Aceh (2004 2008) and Elections Program Manager (2003 2004). A cultural anthropologist and development specialist with strong interests in political participation and civil society, Sandra has 20 years' experience as a journalist, researcher, and international development professional in Indonesia, East Timor and the USA. A twotime recipient of The Asia Foundation's Presidential Award for Exceptional Performance and a Draper Hills Summer Fellow on Democracy and Development at Stanford University, Dr. Hamid is also a former Fulbright Scholar. She completed her PhD in anthropology at the University of Illinois at Urbana Champaign.