The rise of antimicrobial resistance: lessons for global health governance and international law
Symposium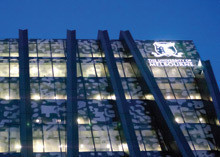 920
Law
185 Pelham Street
Map
The increasing resistance of all kinds of microbes to existing medicines - in particular antibiotics - is one of the gravest global health challenges of our time. If left unchecked, it risks setting public health worldwide to a pre-antibiotic era and undermining a century of progress in health care. Antimicrobial resistance (AMR) has been dubbed "a wicked problem" as it involves a number of sectors with distinct forms of national and international governance and diverse interest - human health care, animal health, food production, agriculture and environmental protection. The main challenges from a human health perspective are conservation of existing antimicrobials, research and development of new ones, and equitable access for all persons in need. Policy, legal and governance questions are at the centre of the current debate, which reached the UN General Assembly in September 2016. Prof. Burci will review the terms of the problem, on-going discussions and initiatives as well as areas of interactions with other global health issues and possible ways forward.
Presenter
Professor Gian Luca Burci

Adjunct Professor
Graduate Institute for International and Development Studies & Georgetown Law

Gian Luca Burci has been Adjunct Professor of International Law at the Graduate Institute for International and Development Studies in Geneva since 2010, Director of the Joint LLM in Global Health Law and International Institutions coorganized by the Graduate Institute and the Georgetown University School of Law, and Senior Fellow in the Global Health Centre of the Graduate Institute. Professor Burci was the Legal Counsel of the World Health Organization between April 2005 and February 2016. Prior to that appointment, he was Senior Legal Officer in the World Health Organization between 1998 and 2005, legal officer in the Office of the Legal Counsel of the United Nations from 1989 to 1998, and legal officer in the International Atomic Energy Agency between 1988 and 1989. His research interests focus on the law of international immunities, the law and governance of international organizations, global health law and governance, and the role of the Security Council. He is currently member of the editorial board of the International Organization Law Review. Professor Burci is the coauthor of a book on the World Health Organization (2004) and of a large number of articles and book chapters, most recently on the responsibility and immunities of international organizations and publicprivate partnerships. A national of Italy, Professor Burci holds a doctorate in law from the University of Genoa (Italy).