The Campaign Against the Courts: A History of the Judicial Activism Debate
Launch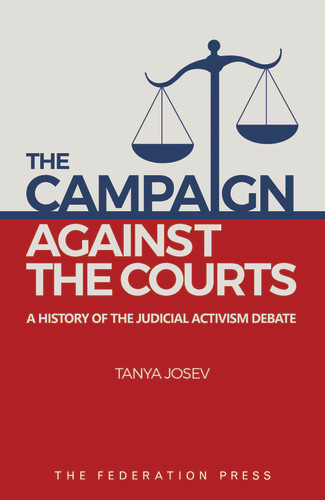 Readings Carlton
309 Lygon Street, Carlton

Map
More information
T: 9035 1111
Dr Tanya Josev in conversation with Emeritus Laureate Professor Stuart Macintyre
The term 'judicial activism' is seemingly ubiquitous in Australia and the United States today. Prominent public figures, from politicians to cardinals, commentators to business executives, have used this terminology, but what does it mean? What are its origins?
Tanya Josev's new book, The Campaign Against the Courts (Federation Press), provides a unique history of the term, from its inception in the United States in the 1940s, to its uneasy position in the academic discourse, and finally, to its current manifestation in both Australia and the United States as part of election campaigns and the politics of anti-elitism. Compelling reading for anyone interested in law, politics and history, the book has received advance praise from David Marr, Professor Frank Bongiorno and Professor Jack Rakove.
Join Stuart Macintyre as he discusses the latest manifestations of the judicial activism debate in Australia with Tanya Josev at Readings Carlton.
Presenters
Emeritus Laureate Professor Stuart Macintyre

University of Melbourne

Stuart Macintyre is an Emeritus Laureate Professor of the University of Melbourne and a Professorial Fellow of the School of Historical and Philosophical Studies. He was president of the Academy of the Social Sciences in Australia from 2007 to 2009 and is a life member of the Academy of the Social Sciences in Australia. With Alison Ashford, he edited the Cambridge History of Australia (2013); his most recent book is Australia's Boldest Experiment: War and Reconstruction in the 1940s (2015).

Dr Tanya Josev

Senior Lecturer
Melbourne Law School

Dr Tanya Josev is a Senior Lecturer in the Melbourne Law School, University of Melbourne. She researches in contemporary Australian and American legal and political history. Her current research projects focus on the origins and evolution of the binary understanding of the judicial role as involving 'activism' and 'restraint' across various common law jurisdictions; and on judicial biography. Her research on the changing meanings of the judicial activism terminology was awarded the DennisWettenhall prize in Australian history in 2015. In 201011, she was based at New York University's School of Law as part of the Hauser Global Fellows Program. Prior to her appointment at the law school, she worked as a corporate lawyer and as an associate to the late Justice Goldberg of the Federal Court of Australia.