Limitations on Judicial Review – Where To From Here?
Free Public Lecture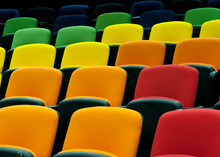 Courtroom 8A, Level 8
Federal Court Of Australia
305 William Street, Melbourne
Map
More information
T: 0390351111
Judges In Conversation Series
The often tense relationship between the judiciary and the executive that plays out when the courts exercise their supervisory jurisdiction over administrative action is frequently framed by legislative attempts to limit the scope or even possibility of that supervisory function. 'Privative' or 'ouster' clauses are the paradigm case of such legislative attempts, but are increasingly just one among a number of devices that might operate to restrict the scope of judicial review. Conditions of contemporary government and politics increasingly also raise questions about the scope of judicial review of executive or 'prerogative' power exercised without any statutory foundation.
In this 'Judges in Conversation' event, Justice Debbie Mortimer (Federal Court of Australia) will engage Professor David Feldman (University of Cambridge) in a conversation about these and other developments with a view to assessing the present and future state of judicial review in both Australia and the United Kingdom. This timely conversation will provide insights into latest developments in both countries, including crucial questions about the possibilities and limits of judicial responses to unfolding events associated with Brexit in the United Kingdom.
Presenters
The Honourable Justice Debbie Mortimer

Federal Court Judge
Federal Court

Justice Debbie Mortimer was appointed to the Federal Court in July 2013. Prior to her appointment, she practised as a member of the Victorian Bar and was appointed Senior Counsel in 2003. Justice Mortimer's practice was principally in public law, together with antidiscrimination and extradition law. She acted for both applicants and respondents, and for and against government, in state and federal jurisdictions including in the High Court. She has received a number of awards for her work, including the 2011 Law Council of Australia President's Medal, the Victorian Bar's Pro Bono Perpetual Trophy, and the Australian Human Rights Commission Law Award. Justice Mortimer is also a Senior Fellow at Melbourne Law School and a member of the Advisory Board of the Centre for Comparative Constitutional Studies.

Professor David Feldman

Emeritus Rouse Ball Professor of English Law
University of Cambridge

David Feldman, QC (Hon), FBA, is Emeritus Rouse Ball Professor of English Law, University of Cambridge. As well as working at several universities, he was the first Legal Adviser to the Joint Select Committee on Human Rights in the UK's Parliament (200004), and was a Judge of the Constitutional Court of Bosnia and Herzegovina (200210). His research ranges across public law, broadly defined, with a particular interest in legal and political history and the relationship between politics and law more generally.