The Alchemists: Questioning Our Faith in Courts as Democracy-Builders
Launch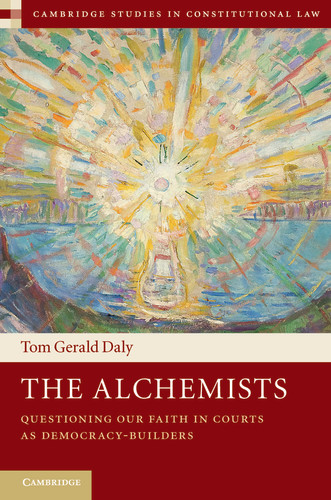 Room 920
Law
185 Pelham Street
Map
More information
T: 83441011
Author Dr Tom Gerald Daly launches his new book The Alchemists: Questioning Our Faith in Courts as Democracy-Builders.
Can courts really build democracy in a state emerging from authoritarian rule? This book presents a searching critique of the contemporary global model of democracy building for post-authoritarian states, arguing that it places excessive reliance on courts.
Tom Gerald Daly is an MLS Fellow at Melbourne Law School, Co-Convenor of the Constitution Transformation Network, Associate Director of the Edinburgh Centre for Constitutional Law at Edinburgh Law School, and a consultant on public law, human rights and democracy-building. His research focuses on the connections between law, policy and democratic governance, with a particular focus on young democracies.
Presenters
Laureate Professor Cheryl Saunders

Melbourne Law School

Cheryl Saunders is Laureate Professor Emeritus at Melbourne Law School and is a research leader on Australian constitutional law as well as a globally recognised scholar and practitioner in comparative public law and constitutional design. She is a recognised international expert on federalism and decentralisation, the role of different branches of government and management of change. In addition to her research and teaching activities, Cheryl is active in public debate on constitutional matters in Australia and internationally. From 1991, as deputy chair of the Australian Constitutional Centenary Foundation, she was closely involved in its pioneering work to encourage public understanding of the Constitution. She has had some involvement in aspects of constitutional design in other countries, including Fiji, South Africa, Zimbabwe, Sri Lanka, East Timor, Iraq and Nepal. She recently edited, with Professor Adrienne Stone, The Oxford Handbook of the Australian Constitution, which provides a comprehensive overview and introduction to the Australian constitutional system in law and practice.

Dr Tom Gerald Daly

MLS Fellow
University of Melbourne

Tom is an academic and consultant in the area of democracybuilding, public law, and human rights, and is on a mission to bring democracy defenders together and to help them in their work. He designed the Democratic Decay Resource (DEMDEC), which had a 'virtual launch' in June 2018, to provide an information hub and platform for collaboration or democracy defenders. He is Associate Director of the Edinburgh Centre for Constitutional Law (ECCL), MLS Fellow at Melbourne Law School, and CoConvenor of the Constitution Transformation Network (Melbourne Law School). As a consultant he has worked on European Union, Council of Europe, African Union, International IDEA and Irish government projects. His current book project concerns the role of public law in countering 'democratic decay' worldwide. He has written on democratic decay as a columnist for the ICONnect blog and tweets @DemocracyTalk. Recent publications include The Alchemists: Questioning Our Faith in Courts as DemocracyBuilders (Cambridge University Press, 2017) and a chapter on 'Democratic Decay in 2016' in International IDEA's policy publication, the Annual Review of ConstitutionBuilding.