Let's get smart about fake Indigenous art
Seminar/Forum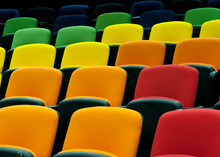 G08
Law G08
185 Pelham Street
Map
This seminar is part of a series generously supported by IP Australia
The sale of fake Indigenous art is a continuing problem for Indigenous artists and consumers. Fake Indigenous Art is harmful as it misappropriates Indigenous culture and takes away opportunities from Indigenous Artists, denying them and their community benefits from their work. Consumers are also disadvantaged as they are misled into buying inauthentic and de-valued items. Terri will examine a number of appropriation examples to examine the gaps in the law. To combat fake Indigenous arts, Terri advocates for using protocols, trade marks and a National Indigenous Cultural Authority and new laws to enable Indigenous Artists to stop theft of culture.
Colin has had extensive experience in the area of infringement of copyright in Indigenous art and was also senior counsel in the seminal art forgery case of Blackman and Dickerson v Gant [2010] VSC 229. He will speak about his experience in the protection of Indigenous arts from unauthorised reproduction and measures available to artists to prevent the sale of fake paintings.
Presenters
Mr Colin Golvan

Victorian Bar

Colin Golvan AM QC practises predominantly in the intellectual property and trade practices areas. Colin appears in the Federal Court throughout Australia, and has appeared in intellectual property, trade practices and defamation matters in the High Court. He is the author of the legal books 'Copyright Law and Practice (Federation Press 2007), An Introduction to Intellectual Property Law (Federation Press 1992), Words and Law (Penguin 1990) and coauthor of Writers and the Law (Law Book Company 1986). He has also been general editor of the monthly Australian Intellectual Property Law Bulletin (published by LexisNexis) and the coeditor of the quarterly Media and Arts Law Review (published by Law Book Company). Colin is the author of papers on intellectual property subjects published in various legal journals, including the European Intellectual Property Review, as well as in the Australian Book Review and the Australian Financial Review.

Ms Terri Janke

Director
Terri Janke and Company

Terri Janke is a Wuthathi/Meriam woman from Cairns. She empowers Indigenous people so they prosper. Terri advises on legal matters including incorporation, joint venture, procurement, governance, employment and engagement. She is an international authority on Indigenous Cultural and Intellectual Property (ICIP) and has written the leading protocols and ICIP models in the film, arts, museum and archival sector. She is valued mentor, an advocate for Indigenous business, an accredited mediator and governance expert.