MLS Recent Graduate Reception
Other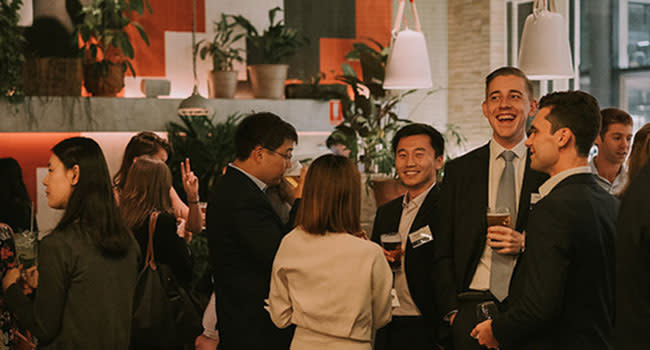 Slate Restaurant Bar
9 Goldsbrough Lane (Mezzanine Level) Melbourne VIC 3000

Map
More information
T: +61 3 9034 3562
Connect with MLS graduates and support a worthy cause at the first MLS Recent Graduate event for 2019. All income raised from ticket sales will go towards the Young Alumni Scholarship.
The Young Alumni Scholarship was founded by four MLS recent graduates, Tim Gracie (BA 2014, JD 2018), Henry Dow (BA 2013, JD 2018), Josh Brigett (JD 2017) and Jack Trainor (BCom 2014, JD 2017). They established the scholarship with the aim of supporting a student overcoming adversity during their law degree. The four friends were inspired to give to a future student due to their familiarity with Tim's story – who as a JD student received scholarship support, having overcome serious illness during his time studying at the University. Tim will be joining us as the guest speaker for the event, to share his scholarship experience and his thoughts on his friend's philanthropy.
Tickets to this event are $25, with drinks and canapes included.
If you would like to attend but unsure if you can make it you can email us to register your interest. Tickets will be available on the door.
We hope to see you there.
All proceeds from purchased tickets will go towards an MLS scholarship. An individual cannot receive a deductible gift recipient receipt for this payment.