Dynamic Competition in Dynamic Markets: A Path Forward
Conference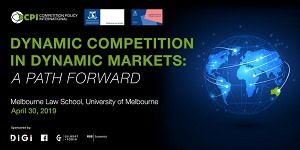 Room 202 & 203, Level 2
Melbourne Law School
185 Pelham Street
Map
**Registration is now closed.
We invite you to a joint Competition Policy International – Competition Law & Economics Conference to be held at the Melbourne Law School on 30 April 2019.
We have assembled an exciting programme with expert contributors from around the world to canvas key developments and major debates in digital markets. Places are limited so please do not delay in registering. Attendance is free of charge.
Event schedule
8:30am - 9:00am Registration & Coffee
9:00am - 9:10am Welcome / Introductory Remarks
9:10am - 9:40am Opening Keynote Address
9:45am - 11:00am Digital Innovation and Competition Policy: A Synergic Approach
11:00am - 11:15am Morning tea
11:15am - 12:30pm Big Data: Understanding and Analyzing Its Competitive Effects
12:30pm - 1:15pm Lunch
1:30pm - 2:00pm A Fireside Chat
2:00pm - 3:15pm Designing Antitrust Regulatory Models In A Globalized Silicon Valley Culture
3:00pm - 3:30pm Wrap-up & Close
SPEAKERS:
Caron Beaton-Wells, Professor of Law, University of Melbourne
Morag Bond, Joint-General Manager, Digital Platform Service Inquiry, ACCC
Allan Fels AO, Professorial Fellow, Law School, University of Melbourne
Katharine Kemp, Lecturer, Law School, University of New South Wales
Stephen King, Commissioner, Productivity Commission
William E. Kovacic*, Global Competition Professor and Director, Competition Law Centre, George Washington University
Scott Kupor*, Managing Partner, Andreessenn Horowitz
Peter Leonard, Professor of Practice, UNSW Business School; Principal, Data Synergies
Philip Marsden, Professor of Law and Economics, College of Europe, Bruges
Howard Shelanski, Professor of Law, Georgetown Law School: Partner, Davis Polk Rod Sims, Chairman, ACCC
Daniel Sokol, University of Florida Research Foundation, Levin College of Law
Beth Webster, Director, Centre for Transformative Innovation, Swinburne University of Technology
Graeme Woodbridge, Chief Economist, ACCC
Luke Woodward, Partner, Gilbert + Tobin Lawyers
*To be confirmed.